With the aim of showing everything that is happening in the planets of Wikitoki, we have launched orbit, a new section of this site. You will be able of seeing the latest news of people, projects and groups of Wikitoki, classified in themes. Moreover, we have created a submenu for you to easily access the websites of each of these groups/projects.
How have we done it?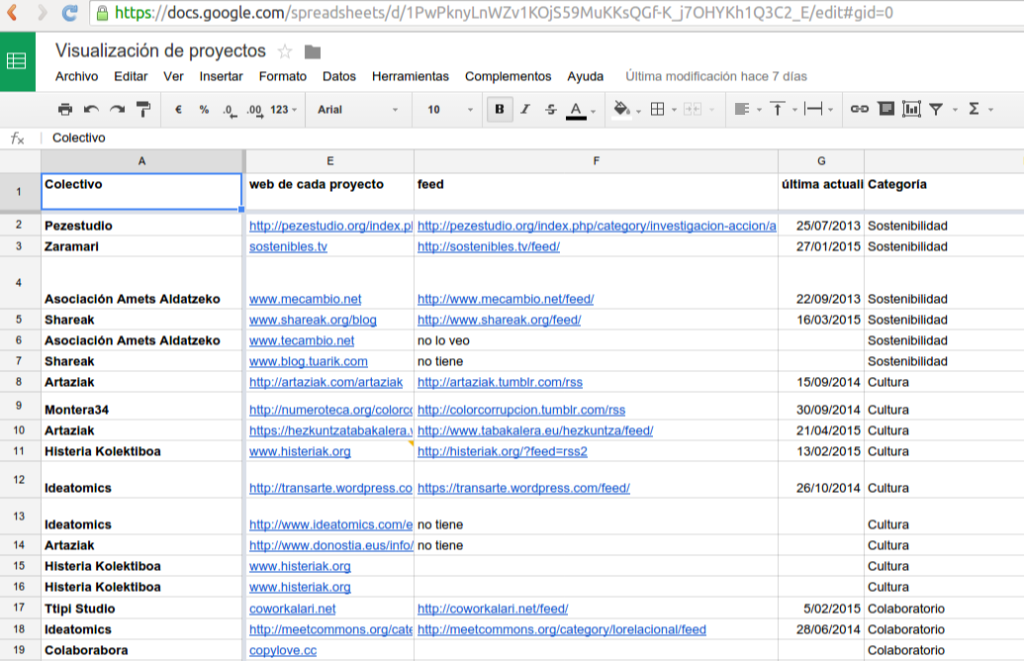 Firstly, we have asked the wikitokers to fill in a document with the name of their project and URL. Then we have searched for their available feed (RSS) and we have classified them in categories. We have taken all the urls of the feeds of one category and we have joined them in a sole feed using the service that it offers RSSmix.com. This way, taking as starting point the following feeds of one category "Architecture and urbanism":
http://elkartoki.com/feed/
http://urbanbat.org/feed/
http://www.6000km.org/category/bd-cadaveres/feed/
http://www.arkitente.org/eu/blog-a?format=feed&type=rss
http://www.inteligenciascolectivas.org/feed/
we have generated a sole feed using  RSSmix: http://www.rssmix.com/u/8134253/rss.xml
Then, for showing this feed in the web, we have used the plugin FEEDZY RSS Feeds that with a short-code such as this one (corchete) feedzy-rss feeds="http://www.rssmix.com/u/8134253/rss.xml" feed_title="no" target="_blank" (corchete cierra)
we are able of seeing the last entries of that feed showing the first image of each of them. A short-code is just a code written down in between "[…]" that wordpress is able to interpret. Instead of showing the short-code, it shows the list of entrances of the chosen feed. In the beginning we had thought about using the function fetch_feed to show the feeds in a page and we created a template of page for that, but afterwards we discarded that and chose the Feedzy plugin.
Update: RSSmix gave us problems with the diacritical marks and we have replaced it with chimpfeedr.com.